Live Support Chat 9 AM to 5 PM Monday thru Friday
Protestant Calendars
We have pictured below just a few of our religious calendars. Need a sample, idea, pricing or a catalog please give us a call at 800 960-9080 or 206 285-5359 (Seattle) or email us at donace@promotionalproductsandideas.com or don_shepherdson8@msn.com
Wall Calendars
Pictured below are five different 13 month 10 1/2" X 18" Wall Calendars that provide a 9" X 1 3/8". Each month has a full color picture. Minimum quantity is 300..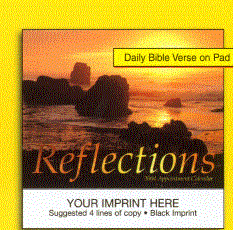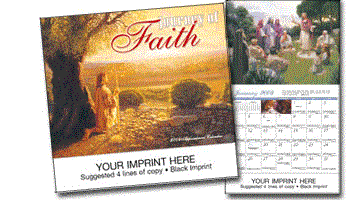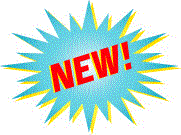 Daily Christian Guide Calendar
This 9" X 17" Daily Christian Calendar provides a large imprint area and in the minimum quantity of 100.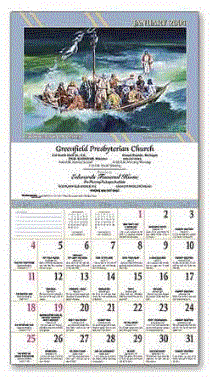 It's A Wonderful World Nondenominational Calendar
This 10 7/8" X 16 3/4" (open) calendar features both Old and New Testament Bible verses with beautiful nature shot of the various seasons for that particular month. Minimum quantity is 100.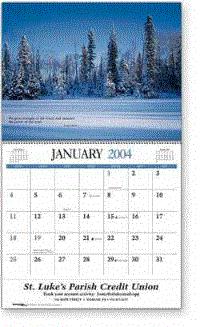 Christian Family Memo Calendar
(also available in Lutheran and Espicopal editions)
This Christian Family Calendar features a beautiful picture of the Infant Jesus with the shepherds on the cover. On the inside cover is a color picture of Christ. The calendar features a scripture reading for each day throughout the year and is designed with a large memo pad for making notes. This is an ideal inspirational calendar and, at the same time, it provides ample room to remember important dates and special occasions. The calendar measures 10 3/4" X 18" open and folded it is 10 3/4" X 10" with an imprintable area of 10" X 1 5/8". Minimum quantity of 100.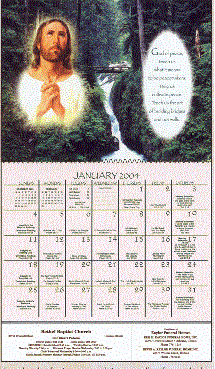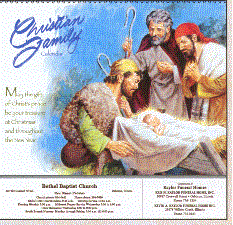 Calendar Cards
Our Calendar Cards that measure 2 1/4" X 31/2" We have many stock calendars for the front side with several religious themes available for the back side or the back side can have the Church information and order of service. Minimum quantity is 1000. We have a 32 page catalog with stock designs and lots of ideas for your Church. Please call us or email us and we will be glad to send the catalog to you.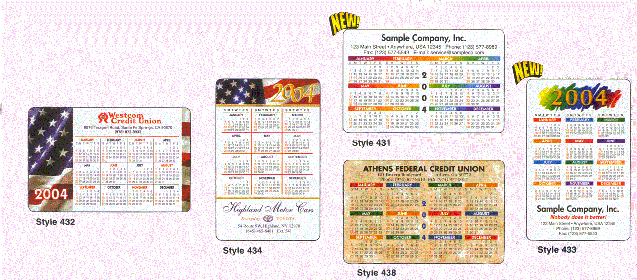 Pictured below are two of the available designs for the back of the Calendar Cards.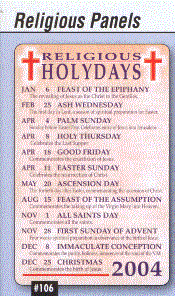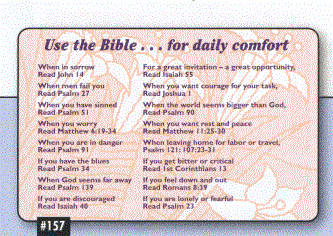 For samples and questions please give us a call at 800 960-9080 or 206 285-5359 (Seattle) or email us at donace@promotionalproductsandideas.com or don_shepherdson8@msn.com