Live Support 9 AM to 5 PM EST Monday thru Friday
Kids
We have many items for kids promotions and the ones we have displayed below are only a small amount of what we can actually offer you. Please let us know what the theme is that you are considering and we will be glad to provide ideas and samples for your consideration.You are invited to call us at 800 960-9080 or 206 285-5359 for catalogs or answers to your questions or email: donace@promotionalproductsandideas.com
Yo-Yos
We have Yo-Yos in eleven exciting colors and our yo-yos definitely have their ups and downs. An imprintable area of 1 3/8" on the 2 1/4" yo-yos make this a great promotional item not only for kids but for adults too. And yes we won't leave you in the dark as we have a glow in the dark yo-yo. We also have yo-yos in the shapes of a tennis ball, volleyball, basketball, baseball, soccerball, golf ball and hockey puck. Minimum quantity on any of the yo-yos is 250.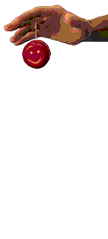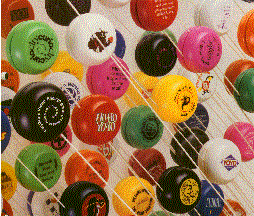 Color-Me Rulers
Color-Me Rulers are made of natural wood and include scale and "color me" imprint on one side in black and ad copy on second side in any standard color. A variety of themes are available from Farm Animals to Bicycle Safety. The size is 5/32" X 1 1/4" X 12" and each provides you with an imprint area of 7/8" X 10". Minimum imprintable quantity is 500. Also avaialbel in a 6 inch size.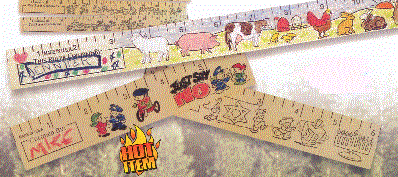 Pinwheels
Our 10" pinwheel is always popular with the little ones. Available in colors of red, white, blue, green, yellow or orange. An ample imprint area of 7/8" X 1 1/2" with a minimum imprintable quantity of 250.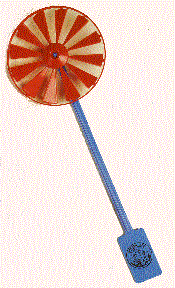 Flyers
Available in four sizes these flyers are the wheel deal for kids and adults alike.The flyers can be imprinted on both the top and bottom. Red, white, blue, green, yellow and orange are the available colors. Minimum quantity with an imprint is 250.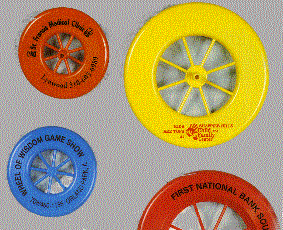 Sand Pails and Shovels

We have several sizes in our sand pails starting at a 4 1/2" X 3 1/4" high up to a 6 1/8" X 8 3/8" high. With nine colors available your imprint will really enhance this great item. Although these are officially called sand pails kids will be kids and they can find all types of other things to use them for. Minimum quantity with an imprint is 250. And yes we do have shovels for them !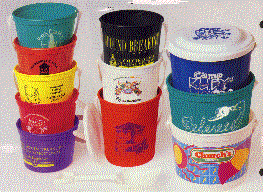 Tops
We have several types of tops availble and are only presenting two which are pictured below. With a 500 minimum imprintable quantity these are sure to be tops with the kids ! Available in red, blue, green and yellow.

Stencils
Kids love to draw and these stencils are great gifts for kids. With three sizes of stencils available that are made of 23 gauge poly and safe for all ages. Available colors are white, royal blue, red, green, ocean blue, orange, yellow, neon yellow and neon pink. Imprint areas on the 4 7/8" X 7 1/2" is 3" X 1 3/4". The 3 5/8" X X 4 7/8" provides a 2 1/4" X 1 1/2" and the 6" ruler has a 3 3/4" X 3/4". Custom or stock stencils available. Minimum imprint quantity is 500.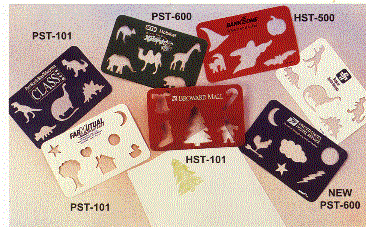 Gliders

Gliders are not only fun for kids but adults also love them. Pictured below are both balsa and foam gliders. The picture on the left features the #25-1 (upper left corner) has a 8" wingspan, the #26-1 has a 9" wingspan, the #30-1 has a 12" wingspan and the #46-1 biplane has a 8" wingspan. The wing imprint area varies on these four gliders from 1 1/4" X 7" on the #25-1 and the #46-1. The #26-1 has a 1 3/4" X 8" imprint area and the #30-1 has a 1 3/4" X 11" imprint area. The minimum imprintable quantity is 1000.
The foam gliders in the picture on the right features on the upper left hand corner the Logo Jet which is 4" X 7", the Stealth Saucer-6" X 7", the Logo Mono plane which measures 5 1/2" X 7". The bottom row has the Logo biplane measuring 5" X 11 3/4", the DC-10 a 5" X 11 3/4" and the Boeing 747 that measures 6" X 11 3/5". Minimum quantity here is 5000.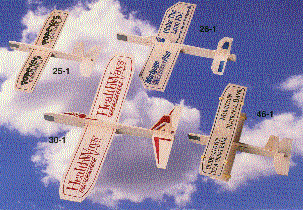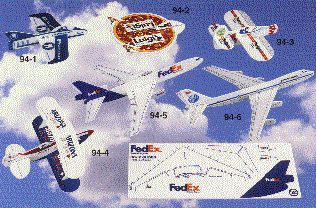 Laser Slates
Laser slates are great advertising tools where parents are accompianed by children. Each slate is 3 1/4" X 5 3/4" with imprint area of 2 5/8" X 1". Minimum quantity is 500.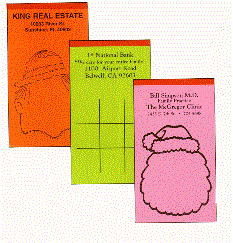 Hi-Flyer Paddle Ball
The paddle ball is the favorite game and challenge for generations of adults and today's children. It is also a terrific stress-reliever for the busy executive ! The Hi-Flyer paddle ball makes a great promotional gift for company picnics, camps, sporting events, safety promotions and schools. It is perfect anytime people want to have fun and a challenge ! Sturdy stryene construction with adjustable rubber string and ball. Simple assembly required. The paddle is 10 3/4" with an imprint area of 4 1/4" X 4 1/4" and can be imprinted on both sides. Available in red, white, blue, black, granite, neon orange, neon pink, neon green and neon yellow.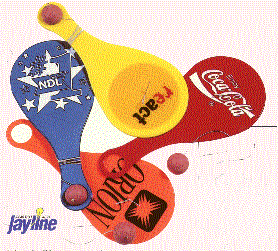 Ball and Toss
The ever popular ball and toss available in either red or blue cup and has a 1" X 2" imprint area on the handle. Minimum quantity is 250 with an imprint.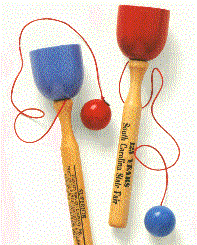 Silly Stickers
We have many stock kid-related silly stickers where you can put your custom imprint at the bottom. The stickers pictured below are 3 1/2" X 8 1/2" with a customer imprint area of 1/2" X 2 3/4". Over 21 stock designs of kids stickers to choose from all of which are in full color.We also can do custom decals for you too ! Minimum quantity is 250.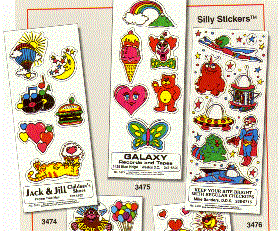 Boomerangs
These boomerangs are just as popular with adults as they are with kids. They are 16" in size and provide an imprint area of 4" X 3 3/4" They come in assorted colors and are available with an imprint on in minimum quantities of 250.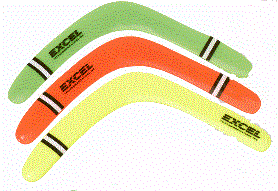 Pen & Pencil Case Calculator
The Pen & Pencil Case Calculator can have your custom imprint with a minimum imprint quantity of 25. It measures a full 7 1/2" in length by 2 1/2" wide by 1" in depth. Imprint area is 1/2" X 1". We have many other electronic type items that kids would enjoy !